Shopping Cart
Your Cart is Empty
Thank you for your business!
You should be receiving an order confirmation from Paypal shortly.
Exit Shopping Cart
Take a look at our gallery and see how the results speak for themselves...
Hair Treatment using O'Natreal Hair Mud
This first series of images show the results of how our Hair Mud can be used as a deep treatment.
In this particular case, our client came to us with concerns of dull, dry and damaged hair with a dry scalp. Using our Hair Mud we were able to transform her hair by firstly washing it with the Argan oil & Aloe Vera Shampoo to cleanse the hair, and then thoroughly rinsing it. The next step was to apply the Hair Mud on the scalp using a generous amount to get rid of any flakes, especially in the problem areas (this product will not clog the pores). We then brought the product right down to the tips using our hands to smooth it through (as the hair is more fragile when wet) and massaged it through to ensure it was thoroughly absorbed. Even though this product is oil-based it won't leave the hair or scalp greasy. A plastic cap was applied to retain the moisture and she was put under heat for 10 minutes. If you don't have a dryer at home you can wrap your hair in a hot towel and that will be just as effective. After removing the cap, we washed the product out using our same Argan oil & Aloe Vera shampoo as before. We did not add any additional products to style the hair, just finished it with a blowdry and styled it as the client desired.
"Every strand has been coated with the Hair Mud right through to the ends, leaving it with a beautiful sheen."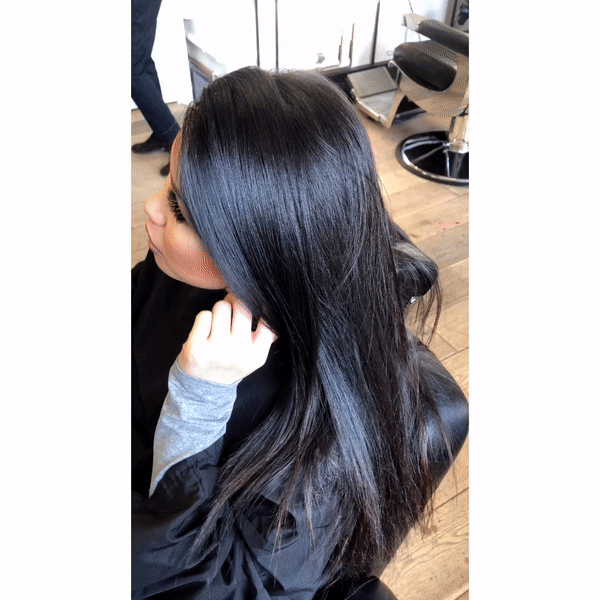 Results showing the improvement in hair quality and length from using the full range of O'Natreal products
When our client arrived After using products Finished style​
This second series of images show the results of how our full product range can be used to achieve amazing results long term. Results include; having a healthy scalp (no problems with dryness or flakiness), and having strong, healthy and hydrated hair.

In this particular case, our client came to us over two years ago with concerns of dull, dry and easily tangled hair. Using our full product range we were able to transform his hair by consistently using all three products in conjunction with each other; the ONatreal Argan & Aloe Vera Shampoo, the Deep Repair Conditioner and the Hair Mud.

In this particular client's case, he had been coming to us regularly for over two years using all three of these products to improve the quality of his hair and keep it healthy. We start by washing his hair twice using the Argan & Aloe Vera Shampoo to cleanse the hair, and then thoroughly rinsing it. The next step was to condition his hair to make sure each strand is soft and silky, and tangle-free. Finally, we apply the Hair Mud on the scalp, sectioning and using a small amount. The Hair Mud is concentrated so you only need a small amount but it is not greasy so will not clog the pores. We then applied the product into the palms of our hands and smoothed throughout the hair all the way to the ends. We did not add any additional products to style the hair, just blowdried and styled it as the client desired.

Click this text to start editing. This block is a great way to highlight key services of your business.

Click this text to start editing. This block is a great way to highlight key services of your business.

0

/